Post by Isabella Cullen on Jul 2, 2009 16:00:17 GMT -5
Cullen, Isabella Marie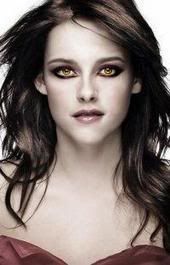 ( B A S I C )
I created the Sound of Madness
[/i][/color][/size]
FULL NAME:
Isabella Marie Cullen
DATE OF BIRTH AND AGE:
13/09/1987 | eightteen
SPECIES:
vegetarian vampire
Original or Canon:
Canon Character
GENDER AND SEXUAL ORIENTATION:
female | likes boys
CURRENTLY LIVES:
forks
PHYSICAL DESCRIPTION:
Bella has pale, perfect skin, with long, straight, dark brown hair and golden eyes when she isn't hungry. She has stubby fingernails because she has a nervous habit of biting them. She's slender but not at all muscular, and weighs about 115 pounds. She is 5 feet 4 inches.

( O T H E R )
Wrote the book on pain
[/i][/color][/size]
LIKES:


Music

Edward

Shakespeare

Jane Austen novels

DISLIKES:


Wild Vampires

Dressing up

Bullet proof monstousity car

Herself (doesn't think of herself as pretty)

STRENGTHS:


Has shield as power

Always keeps her mom out of trouble

WEAKNESSES:


Accident Prone

Was always getting hurt

FEARS:


Losing the ones close to her

Volturi

PERSONALITY DESCRIPTION:
Bella is a girl who fell completely head over heels for her husband Edward. She likes English class, so it's not a surprise when people find out taht she likes to write and read. Jane Austin and Shakespeare are her favorite things to read. Before Bella was turned into a vampire, she liked her old red truck, it's not something that draws too much attention to her. In her spare time when she isn't reading or with the ones she cares about, she is listening to music. Bella cares dearly about her mother and father, even her new family, the Cullens'. She always saw them as her family, just now it is offical with her being married to Edward. Edward has a special power, he can read minds. Bella is grateful that she has the only mind he can't read. They say she has a very privet mind.

With the things that Bella likes, she also has her fair share of things she doesn't like. Normally when you go to describe a typical girl, you would say that they would like dressing up and wearing make-up, or getting their nails done, or likes to generally go shopping. Well, anyone that knows Bella enough, would say that this are things you can't say to describe her. Bella doesn't like to dress up, wear make-up, get her nails done or go shopping. She also doesn't like herself in a way because she doesn't think she is pretty compared to others. Before Bella was turned into a vampire, Edward had her drive a bullet proof monstousity car that drew attenion to herself, which she doesn't like. It also didn't help that the car wasn't even advailable for purchase yet. After school was over, before Bella and Edward got married, Edward wanted Bella to go to school before anything happened, so Edward had her applying to collage after collage, so she slowly started not to like it anymore.

Bella is someone that doesn't have many strengths but the ones that she does have are very powerful for her. In a battle or whenever she is just around others, she has a shield where no one can affect her with powers such as mind reading and illusions. She is very good when it comes to family and friends that she will put everyone before her, trying to please everyone else, instead of herself. Bella always has to keep her mother, Renee, out of trouble. With some of her strengths, she gets weaknesses that she can't help. When Bella was still a human, she was very accident prone which caused her getting hurt most of the time. With this, Bella was always getting into trouble with her couriosity and her clumsiness.

Bella is like everyone else, no matter if she is human or vampire. She still has fears, secrets, and dreams. Some of her fears is that she could lose someone close to her that she cares about. That would crush her if something like that happened. The Volturi scarred Bella at first when she was a human, but they still scare her now that she is a vampire because if they wanted to get rid of her, they would have no problem. The Volturi could have most of the vampire population after her for breaking rules, even the small ones. When Bella was a little girl, she was friends with Jacob Black. As they got older, their friendship grew. When they were older and Edward said something to her, she realized that she had so much more to learn about the world around her. Some of Bella's fears now are that, she wouldn't be able to see Jacob anymore or that a war breaks out between the Cullens' and the wolves of La Push, because hse would have to chose against her life-long friend and her huband and his family. With her fears, also comes some dreams that Bella has. As you can predict, Bella wants her daughter, Renesmee, to have a normal life like any other girl her age would have. She wants her to go to school and have friends she can hang out with. She wants to live happily ever after with her prince charming and her daughter.

Everyone has them, yeah they are secrets. Everyone keeps one at some time or another. Bella has some of the biggest that you can ever imagine. She has to protect her and her family and friends safety by not saying anything about her being a vampire or Jacob being a wolf. If any human finds out about any of this, the Volturi will come, kill the vampire who let the secret out and get the human that knows now. This is a reason why Bella is so afraid of them. Bella wouldn't be able to live with herself if she lets one of her family or friends get hurt because of something that she says or does.
( H I S T O R Y )
Somehow I'm still here, To explain
[/i][/color][/size]
MOTHER:
Renee Dwyer
Esme Cullen(Mother-in-law)
FATHER:
Charlie Swan
Carlisle Cullen (Father-in-law)
SIBLINGS:
Alice Cullen, Rosalie Cullen (sisters-in-law); Emmett Cullen, Jasper Cullen (brothers-in-law)
HOMETOWN:
Forks
HISTORY ESSAY:
Bella was born in Forks, but her mother and father split up when she was six months old. She spent the majority of her young life in California and then later Phoenix, Arizona where she wasn't very popular and never felt as if she fit in. She is far too clumsy for her own good and tries to avoid sports and dancing.

When her mother remarried, Bella decided to move back to Forks to live with her father. She felt a bit guilty that her mother wasn't able to spend as much time traveling with her new husband because of her, and so willingly, but not enthusiastically, she moved in with her dad. He bought her a truck and has tried to make her feel comfortable in her new home.

At school, Bella was greeted with great interest and made friends with a few people right away. She first saw Edward and his family at lunch time and was told that they generally kept to themselves. In biology class, Bella was forced to take a seat next to Edward, as it was the only empty seat in the room. He reacted strangely to her, making her think he hated her. It wasn't until two weeks later that Edward returned to school and Bella was able to properly meet him.

After a while, Bella came to guess Edward's secret and accepted him as a vampire. He saved her life several times and made it his mission to keep her safe. The two fell in love despite the odds against them. Bella became the victim of a tracker named James and was saved when Edward drank her blood and stoped the venom from spreading through her system.

On her 18th Birthday, Bella got a paper cut and was put in great danger at the Cullens home. Because of this, Edward decided to leave her. Bella existed in a near catatonic state for weeks afterwards and only just managed to go to school and work. She decided to take risks to "hear" Edward's voice and enlisted the help of Jacob Black in rebuilding a motorcycle. The two became very good friends until Jacob appeared to have joined a cult. Bella learned that Jacob and the other teenage Quileute boys are werewolves.

When Alice returned to Forks, she told Bella that Edward thinks she is dead and has plans to kill himself. The two raced to Italy where they stopped Edward and were taken in by the Volturi. They returned to Forks with the promise that Bella will become a vampire. At home, Edward agreed to change Bella as long as she married him first.

After a few weeks of being grounded, Bella was put on "parole for good behavior" so long as she agreed to make time for Jacob and her other friends as well as Edward and the Cullens. She was accepted into the University of Alaska even though she didn't really plan on attending. She also was made aware, by Edward, of an irresponsible vampire creating newborns around the Seattle area.

Edward took her to Florida to see her mother, and when she got back she tried to contact Jacob, which Edward did not approve of. She also found out that while she was gone there had been a bit of a battle between the Cullens and the Wolves over the hunt for Victoria. She managed to get in some time with Jacob while Edward was hunting. As "punishment" Bella was forced to stay at the Cullen's home for the duration of Edward's next hunting trip, where she talked to Rosalie and learned all about her transformation into a vampire and why she is against Bella joining the family. Jacob helped Bella escape from Alice at school and she told him she would be joining the Cullen family soon, which Jacob did not respond well to. When Edward returned he agreed to allow Bella time with Jacob so long as she told him when and where first.
( P U P P E T E E R )
That the darkest hour never comes in the night

[/i][/color][/size]
ALIAS:
Ashley
AGE:
14
ROLEPLAY EXPERIENCE:
Since Augutst 2008
HOW DID YOU FIND US:
Made the site
OTHER CHARACTERS?:
Soon to be
SECRET PHRASE:
Removed by Admins
RP EXAMPLE:
Bella's best memory was when she was getting married to Edward. It was the best moment of her life. She was getting married to the one person she fell in love with and could spend the rest of time with. If he turned her into a vampire afterwards. Before the wedding and everyone was arriving, Alice was in charge of Bella. Even though Bella didn't like dressing up, this was the one exception to that. Bella wasn't allowed to look at herself while Alice was doing her make-up or making final touches. Alice was doing her make-up so Bella looked like she had perfect, pale skin like the rest of the Cullens'. Bella was in awe when she turned around and looked in the mirror at herself. It was a preview of her when she will be a vampire. She was in love with it. Nothing Bella could not thank Alice enough.

As Bella walked down the stairs, many things were going through her mind. Hoping was wasn't going to mess up, and not tripping on her dress were just a few of them. Looking up, she saw eveyone looking at her, then she saw Edward. Everything just seemed to fit in place. She was marrying the person of her dreams. Her heart was beating a mile per minute as she walked up the alsie and she couldn't get a smile off her face. The rest was just a blur to her. Everything was so perfect that it went by so fast. The "I do's", the ceramony, everything. It was the best moment of her life.

credit to
jenna aka alice cullen
who designed this application.
If you would like to use it, please contact an admin and
do not
remove credit.
Lyrics credit to SHINEDOWN - Sound of Madness.[/size]
[/font][/center]